- Thu Oct 01, 2009 2:49 pm
#148442
Here's a .gif of the turbine play on the blown turbo: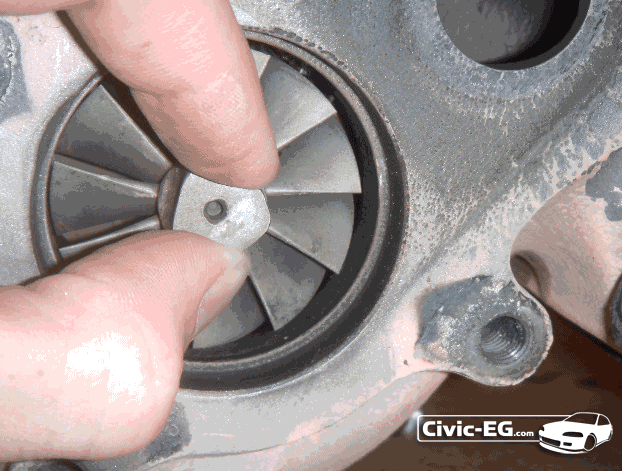 So I rebuilt the turbo:
http://civic-eg.com/viewtopic.php?t=11208
using parts from 2 garrett T3's to build one good one. I went from a stage 0 to a slightly bigger stage 1 turbine/housing while I was at it, which I believe was from a T3 Super 60.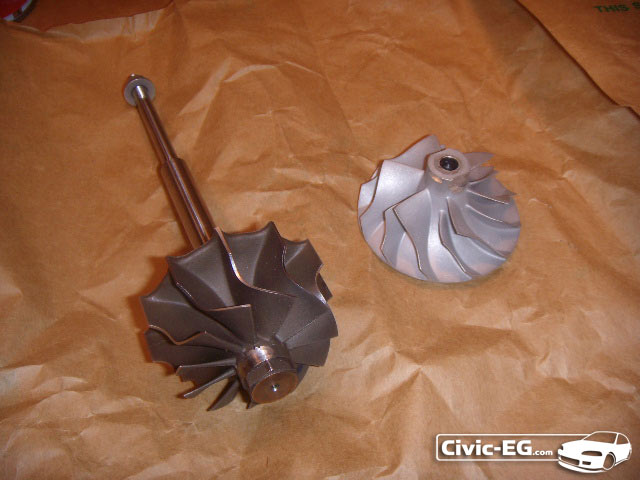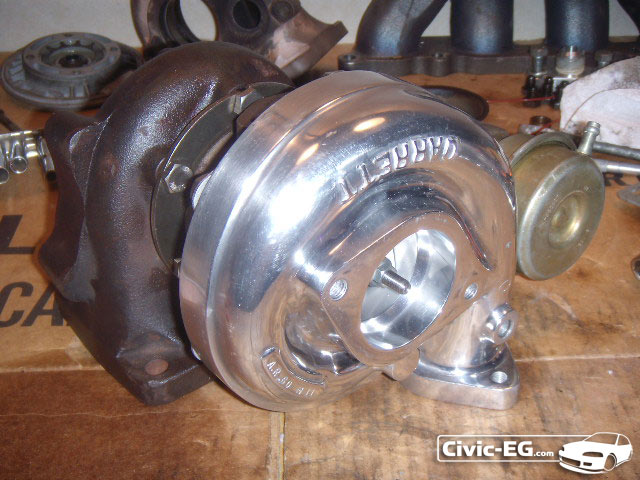 I installed the turbo, along with a K&N to replace the foam HKS knockoff which was starting to become restrictive @ 15psi.
I got the car back up to the dyno to be tuned and ran into another problem...
After I put the new plugs in the car would cut out around 4500-5000 rpm. I thought this was the fuel cutoff that the tuner had put on the ecu since my car has not yet been tuned for high cam. But when it was back on the dyno he said there's a problem... the fuel cutoff was set for 6000 rpm. He tried some things with tuning to make it stop but no luck, it got worse cutting out at 4000 rpm. We traced the cutting out back to ignition. I replaced the Blaster coil with a new one and tried different plug wires... nothing. So then I took out the new NGK/s which were iridium plugs and put in the old oem copper ones and it now starts to cut out at 5000 rpm. I don't know why the part # was for iridium plugs instead of copper. So I need to find the right copper plugs (heat range 7 I believe) and head back up for the third time. In the meantime I am able to drive the car around, just not above 5000 RPM, and it is still a blast to drive!
The turbo is so loud... not a turbo whine like you hear on supras, but just a constant loud SSSSHHHHHHHHHH whenever it is in boost. Then the knockoff HKS is even better when I let off the gas. I really need to get a video up.
I've gone through 2 tanks of gas... 27 MPG on the first one and 28 MPG on the second. This is mostly highway driving at 65-80 mph with about 25% country road driving, as well as some hard beatings mixed in from giving rides and listening to the wonderful sound of boost
So that's it until I can get back up to get it tuned again... The dyno is 1.5 hr away so it's tough to get up there and find a time when the owner, the hondata tuner and I all have the same schedule.
Do Not PM me your technical questions. Post them in the forum!

My 1992 SOHC Turbo Hatch
My Youtube Channel:

6th Gear Garage