- Mon Mar 16, 2015 12:20 pm
#352606

Warning:
This is not a beginners DIY. This requires a lot of specialty tools to do this this way and knowledge of safely using a press. I am not responsible for any damage/harm that you do to yourself or your car. It is extremely easy to bend a hub or crack a knuckle if you do not know what you are doing here.
That said you can buy a 20 ton shop press and the majority of these press tools from Harbor Freight. If you plan on doing wheel bearings or work on a lot of EGs the Helms manual actually has a list of Honda part numbers for the tools needed, but they are expensive to purchase that way so I don't recommend it for most people.
Parts required for this job:
-OEM or Aftermarket wheel bearings for whatever hub knuckle combination you have
-ARP or other brand extended wheel studs
Tools required for this job (everything needed to do this after the knuckles have been removed:
-Shop press (Harbor freight 20 ton will work I don't recommend anything smaller)
-assortment of press tools for wheel bearings
-locking snap ring pliers
-dead blow hammer
-32mm socket (For removing rear hub)
-flathead screw driver (for removing rear hub center cap)
-cutoff wheel
-chisel
To save time I have assumed everyone trying to do this is able to remove the knuckle from their EG if not please order a Helms manual, or find a copy online, and start there. For everyone who can get to that point here is where we begin.
You should be to this point with a knuckle removed from your car.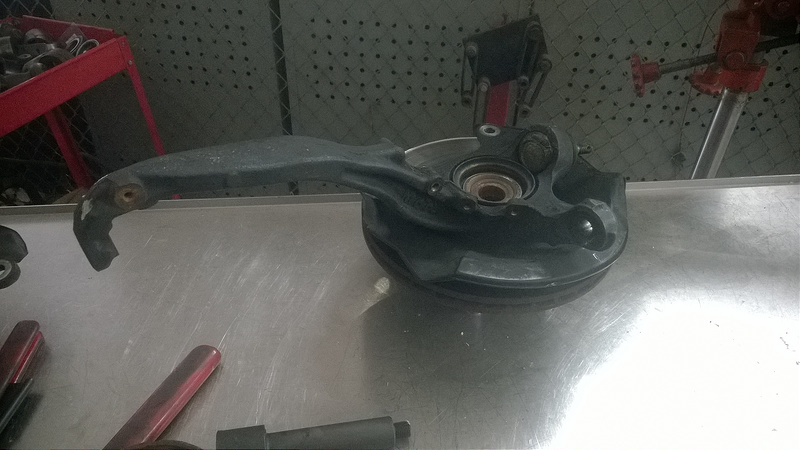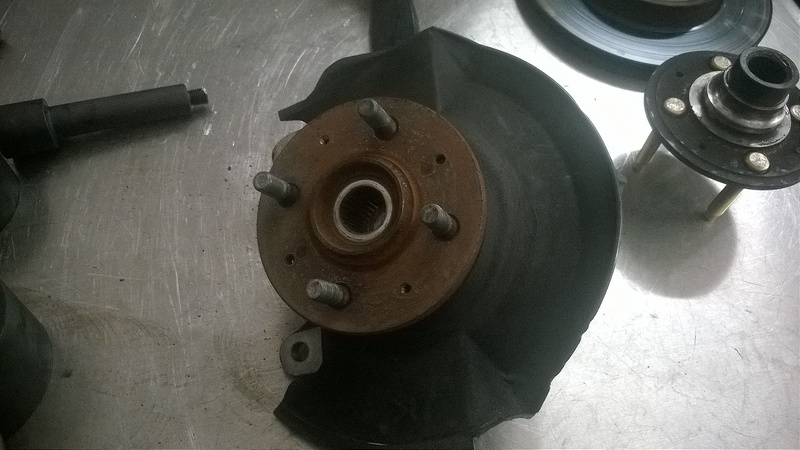 Find a press rated insert that fits through your hub and insert it through the hub. Use a dead blow hammer against this piece to pop the hub out of the wheel bearing. To do this you should hold the knuckle an inch or so off of the ground bewtween your legs and hit the tool with the dead blow hammer. I could't photgraph this step and do it at the same time. Also remove the bearing protector ring that I still have on at this point. It will get damaged if you do not remove it before putting the knuckle on the press. *** The inner race of the bearing will stay on the hub do not be concerned it is normal we will get to that in a couple of steps***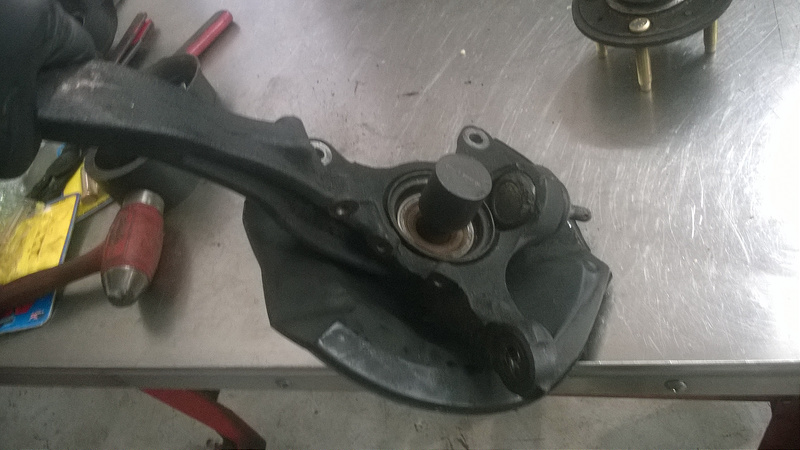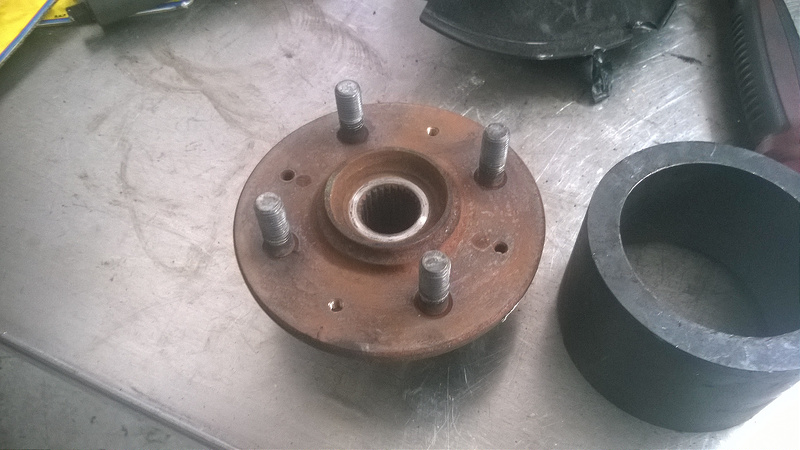 Now take the hubs and support them on a solid surface and use the dead blow hammer to remove the stock wheel studs. It is your choice of how to insert the new studs at this point. I personally use a dead blow hammer to get them into the hub. You can use a press but you must fully support the hubs or you risk warping it. Once you do that you will be to this point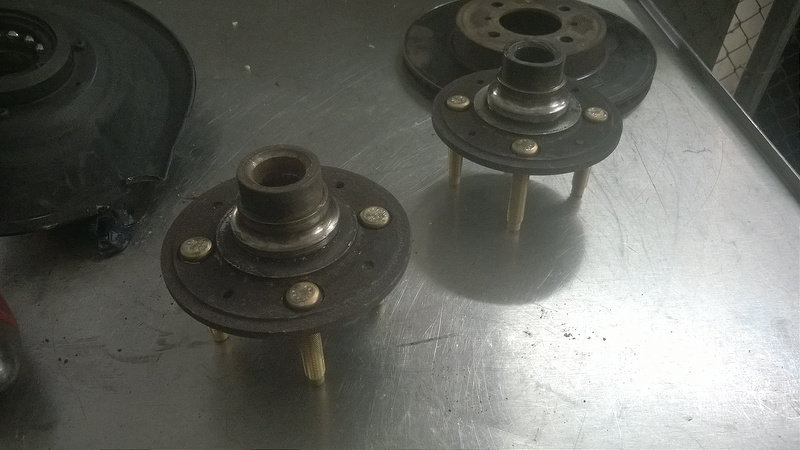 Now to get back to the wheel bearing. Your knuckle should be looking like this after knocking out the hubs.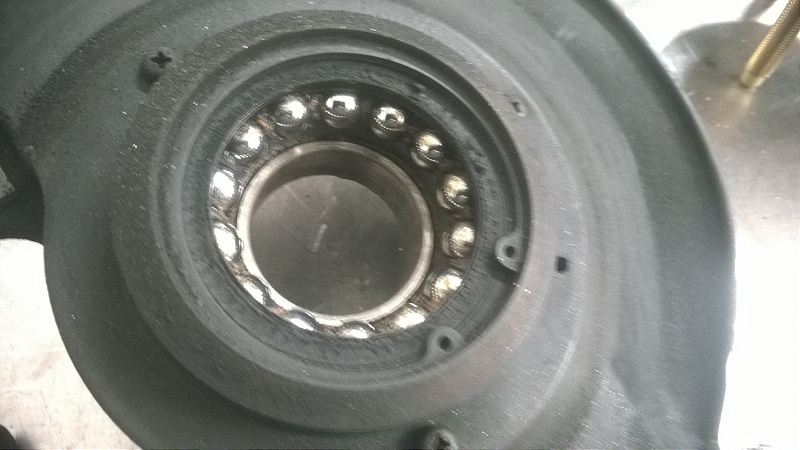 Get your snap rings pliers, large locking ones work best but you can use whatever you have available to you.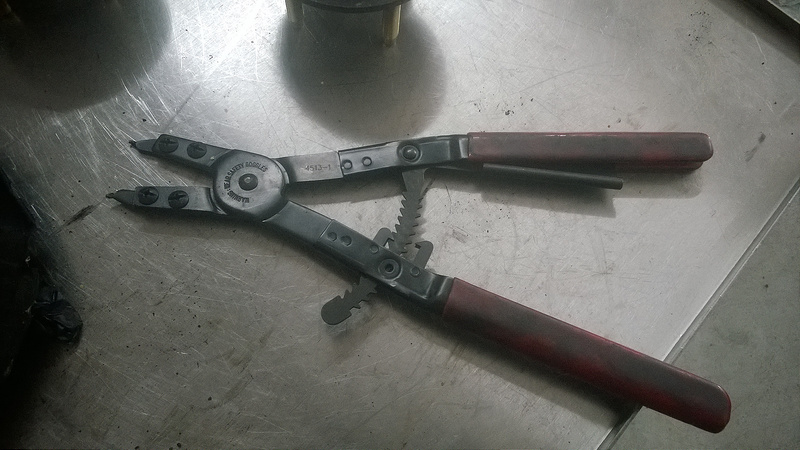 Get the snap ring out and save to re-use.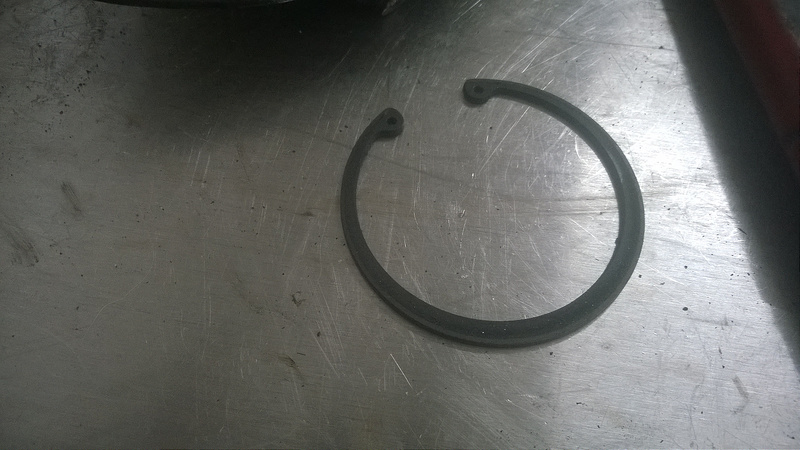 Now find a large open press tool to support the knuckle while you press out the wheel bearing and a tool that is as close as possible to the outer diameter of the wheel bearing.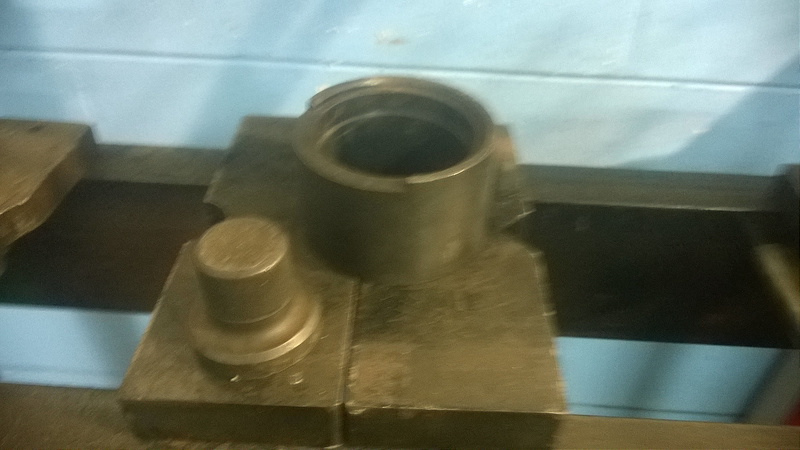 Support the knuckle on the press with the above tools like this and let the press work its magic. Installation of the wheel bearings is opposite of removal so I did not photograph the process.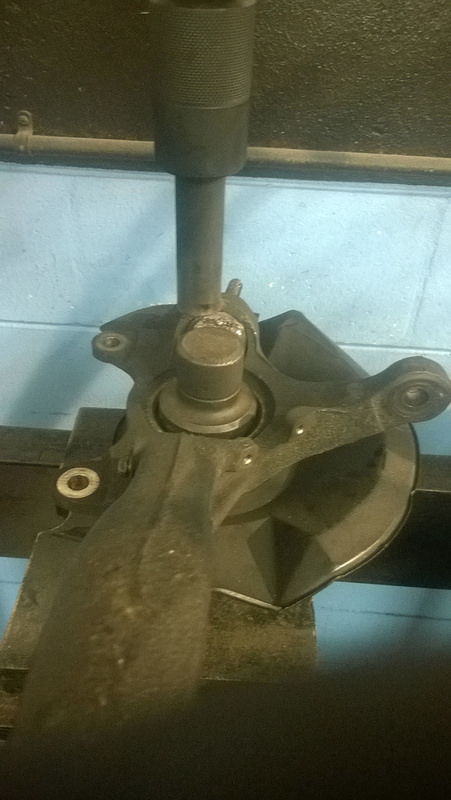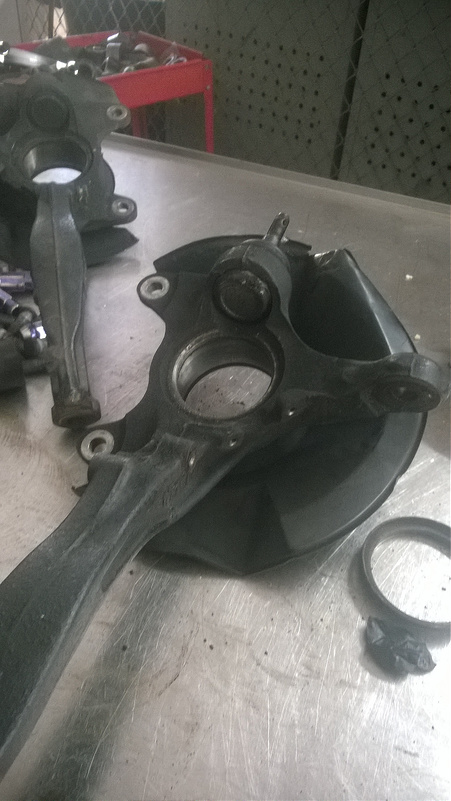 Now the only headache part of this job. Take the hub an support it securely in a vice and use a cut off wheel to carefully cut the inner race. Do your best not to cut into the hub. Once it is cut/scored almost all the way through use the dead blow hammer and chisel to hit on the cut until the inner race snaps off. Honda says you can use a small gear puller to remove this inner race but I've never had any luck making it work and this does the trick.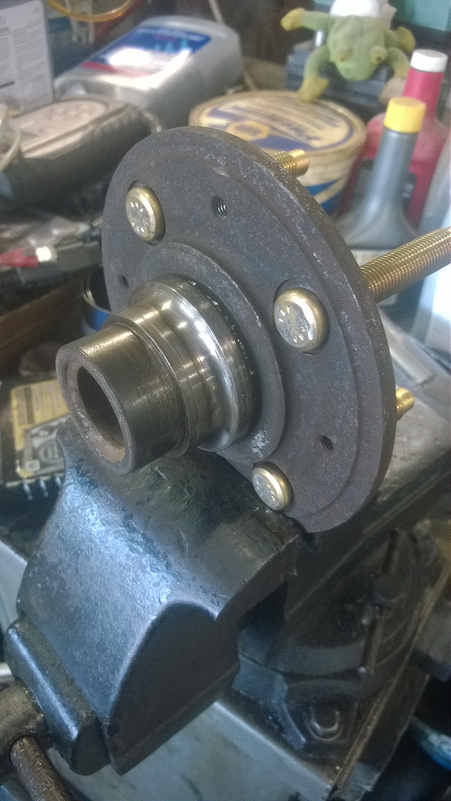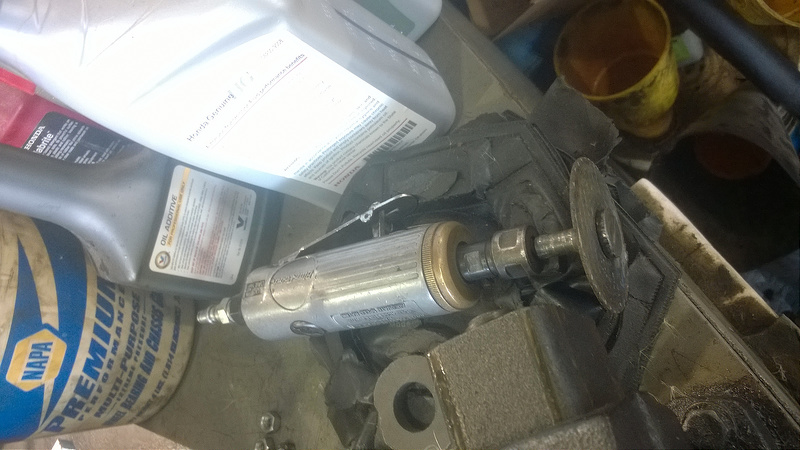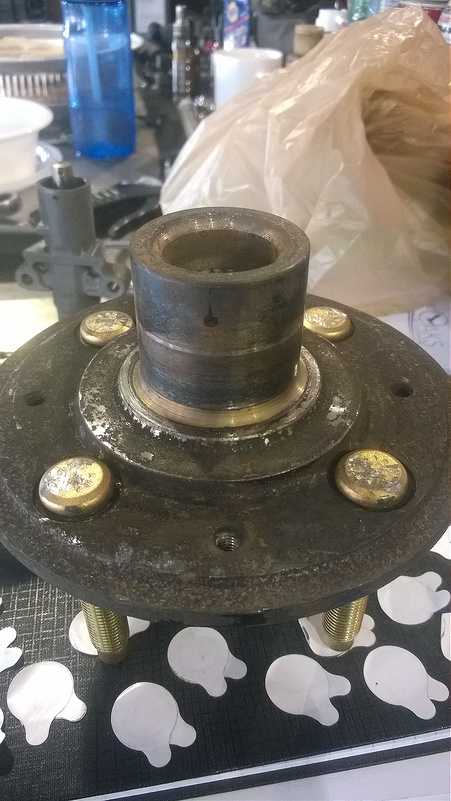 Now head back over to the press with your hubs. You are going to support the knuckle into the press with a tool against the inner race, THIS PART IT VERY IMPORTANT IF YOU DO NOT SUPPORT THE INNER RACE IT WILL SEPERATE WHEN YOU INSTALL THE HUB BACK IN. With the inner race supported insert the tool you used to remove the hub and again set everything in the press and let it work its magic.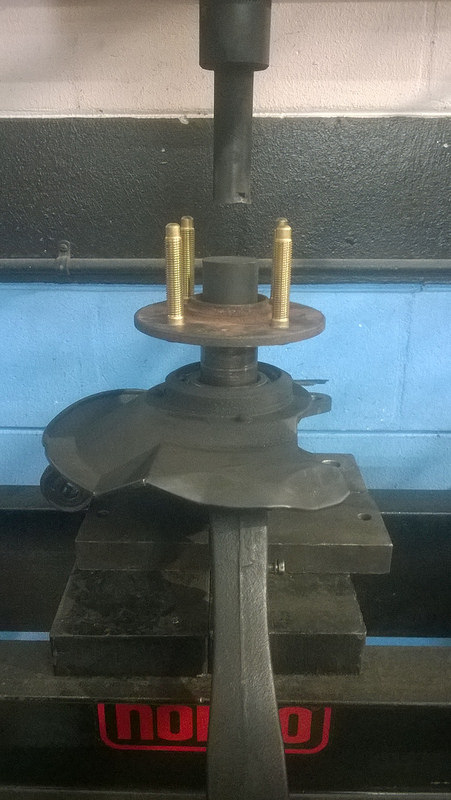 The finished fronts along with some new rotors.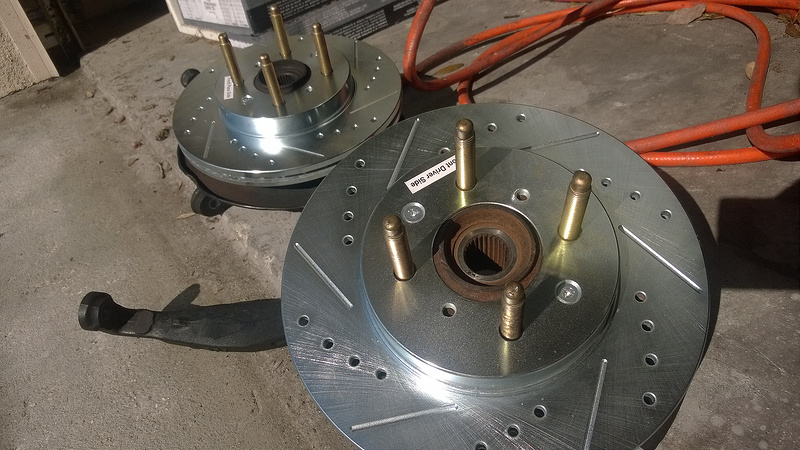 Just barely peeking out the end of my lug nuts. Sorry for the dirty wheels!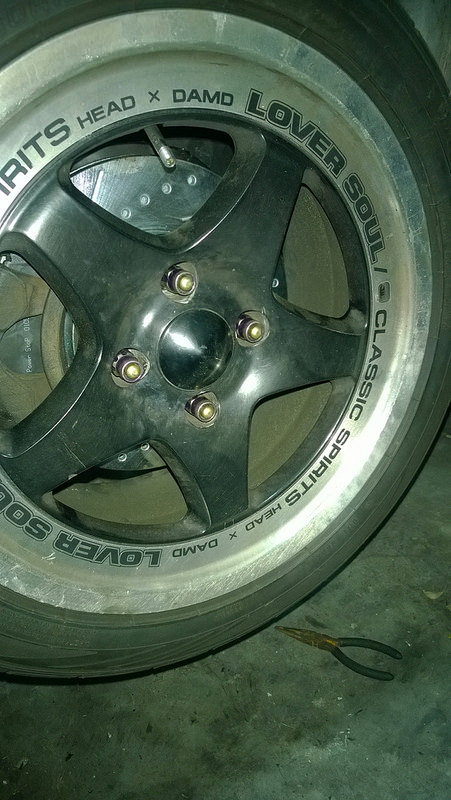 I will post pictures for doing the rears in a day or two. Hope this helps out.
NOTE: It is recommended to tack weld the extended studs in before reinstalling the hubs. I skipped this step because I did not have a way to get it done that day. It is not a necessary step but if you ever drive with loose lug nut/nuts it is possible for the stud/studs to back out if they are not welded. If this happens to you use a slide hammer and an adaptor that thread onto the wheel stud to pull them back into place. Remember to use a torque wrench to tighten your lugnuts it prevents all kinds of issues from warped rotors to stripped wheel studs.