By
teal_dx
- Tue Oct 03, 2006 6:32 pm
- Tue Oct 03, 2006 6:32 pm
#64
Table of Contents
page 1
: Phase 1 (2000-2005) pics, y8 mini-me swap, urethane bushings. New D16z6 build begins, Fuel System.
Body work: honda rust fixed, engine bay shaved & painted.
page 2
: Paint Work in progress, pics
page 3
: First pics of Paint Complete, Wheel whore pics
Page 5
: Lowered a bit more, oem mud flaps
page 6
: Pics with Polished HX rims on, Sway Bars & Subframe Brace, custom gauge cluster, turbo teaser pic
page 8
: bad things happen in 3's. Replaced Rod Bearings, Head Gasket and Rebuilt tranny.
Also installed OBX LSD, installed a CF Hatch, test fit my 3" Thermal R&D. Some pics from summer/fall '08.
page 10
Boosted! soon to be dyno tuned...
page 11
First dyno tune vid!
page 12
R.I.P. Garrett
page 13
Turbo rebuilt, ignition issue solved, NEW PICS - 3 wheelin

page 14
Merry xmas pic
page 15
Parked for winter
page 16
New Shoes!
page 17
wet sanded & polished = Rustoleum Army Green at its finest! Lowered more and Work Eurolines installed.
page 19
Couple of pics: Fall 2010
page 20
Yes I'm a wheel whore... TE37's for 2011
page 22
compiled pics of my car with different wheels over the years
page 23
Works sold... say hi to OZ Racing Starlights
page 25
a few pics
page 26
New battery & new bumper
page 27
A pic from 2013
page 28
New pic from 2014
Current mods
Body/Exterior:
JSP CF Hood
VIS CF Tail Gate (sold, back to stock)
DIY Army Green/Black roof paint job
Shaved & tucked engine bay
DIY Amber corners
VX rear diffuser (not yet installed)
Engine:
D16z6
SRP 75.5mm forged pistons
Eagle Rods
ARP Head studs
1999 D16y8 intake manifold
knockoff AEM fuel rail
AEM fpr
DSM 450cc Blue top injectors + resistor box
Motorola 2.5 bar MAP
Walbro 255 LPH
stainless fuel line, -AN fittings, inline fuel filter
Custom K&N for clearance
Auto to Manual conversion mount
OEM mounts urethane filled
Turbo:
Garrett T3 .60/.48 60 trim internal WG
Cast manifold
2.5" Spoolin DP
3" Thermal cat back
2.5" piping & FMIC
Hallman manual boost control
knockoff HKS BOV
Function 7 -AN downpipe flange & fittings
Oil Sandwich Plate Adapter
Custom K&N Air Filter
Si transmission:
OBX LSD
XTD stage 3 6-puck clutch
8 lb flywheel
braided stainless clutch line
Interior & Electronics:
EX Gauge cluster w/ Tach
Autometer Oil pressure, Boost, EGT gauges
Odyssey PC680 battery
slim push fan
4ga and 8ga custom wiring for electrical system
P28 chipped with Hondata S300
Suspension:
Tokico HP struts/CR coil overs
Energy Suspension Master Bushing Kit
Energy Suspension Trailing Arm Bushings
Suspension Techniques 22mm front & 19mm rear sway bars
ASR A-Spec subframe brace
Wheels/tires:
polished 14" HX wheels
195/60R14 Falken Azenis RT615
2-piece 15x7" +18 r, 15x6.5" +23 f Work Euroline S2H Wide on 195/50R15 Falken 912's - SOLD
Forged 15x7 +32 OZ Racing Starlights on 205/50R15 Nittos
Brakes:
EBC Greenstuff pads (not yet installed)
EBC slotted/drilled rotors (not yet installed)
SS brake lines
_ _ _ _ _ _ _ _ _ _ _ _ _ _ _ _ _ _ _ _ _ _ _ _ _ _ _ _ _ _ _ _ _ _ _
Here is my 1992 Civic dx. I bought it in 2000 with 100k miles on it. now it has 177k I paid $3000 and the guy threw in a free system! There was only 1 tiny bubble in the paint on the rear fender, and a couple dings.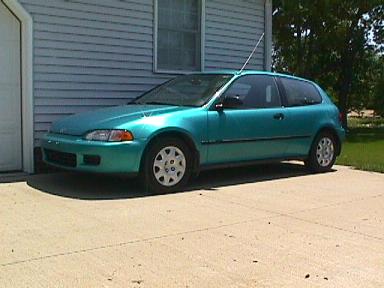 These pics are old, my dx is undergoing a full operation right now. I'll post those once it is complete

old specs: 92 civic dx, auto, no options except power steering.
orig 1.5L block w/ 1999 Y8 vtec head, mild polish
99 Y8 intake manifold, 1995 Ex P28 ecu, 95 Ex Gauge cluster (has Tach!)
ARP studs, crank underdrive pulley, CAI,
Tokico HP w/ coilovers, Energy suspension master bushing kit & trailing arm bushings. Urethane DIY engine mounts. strut tower brace.
Ingall's fr camber kit, DIY rear kit. MassAir header, Konig exhaust.
ADR 16x7/ Eneiki 16x7 kuhmo 205/45/16
Here's some pics of what it took to get it to that point: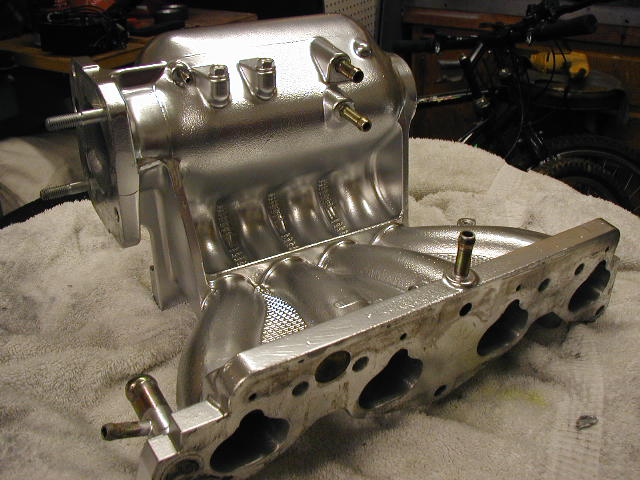 y8 intake manifold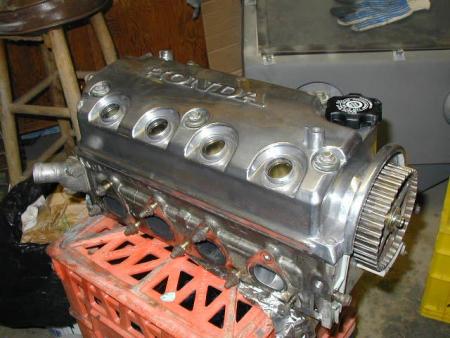 y8 head & polished valve cover
for the mini-me swap:
http://www.civic-eg.com/viewtopic.php?t=10
Polyurethane master bushing set: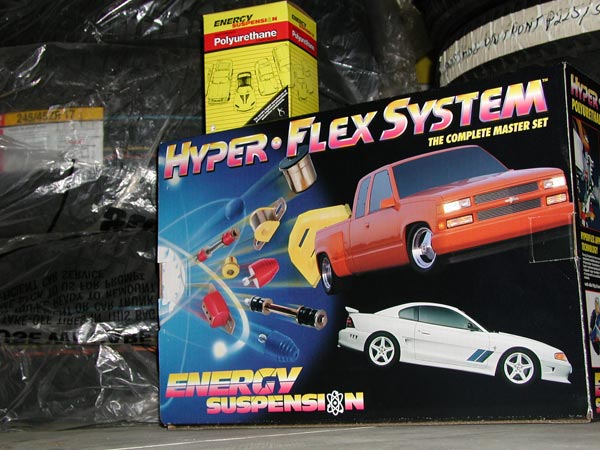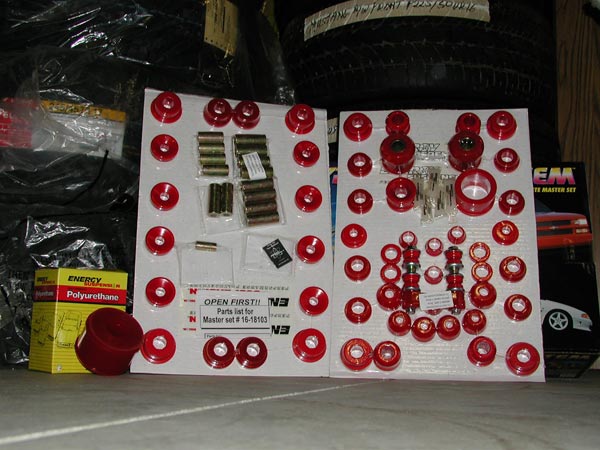 http://www.civic-eg.com/viewtopic.php?t=16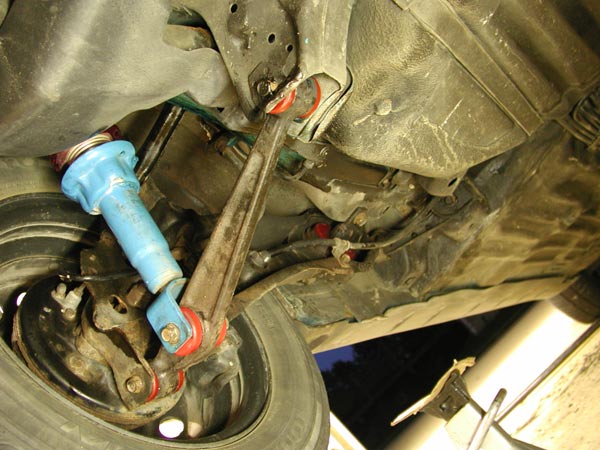 Last edited by
teal_dx
on Wed Sep 17, 2014 3:18 am, edited 33 times in total.